I Would Say A Cross Word!
I'm getting so excited,
For I have only three
More words to fill in then I might,
Have my first victory.
I'm not an intellectual,
I often claim defeat,
But trembling I feel that tonight,
My crossword I'll complete.
I haven't used the dictionary,
So far it has gone well,
I haven't asked for help with
General knowledge, how to spell.
Oh, I've just solved another,
Now there are only two,
And if they aren't too difficult,
Then my dreams will come true.
I've found one more solution,
My heart is beating fast,
If I can fill in thirteen down,
I'll have success at last.
What! I just don't believe it,
A name I've never heard!
So reluctantly I have to ask,
"Will you help me with this word?"
Eileen's Rainbow
She entered the bedroom and silently crept,
To his side where now peaceful, he finally slept.
Then she held his thin hand and she tried not to cry,
For she knew if he wanted, he'd live and not die.
But he'd made up his mind that it was time to go,
Now his life was all spent and he worried her so,
So he drifted and dozed in a garden of mist,
And he smiled, warm inside as he felt himself kissed.
Then she moved to the window and looked at the sky,
What she saw was a symbol - she let out a cry,
"There's a rainbow my darling, a beautiful sight,
Oh please open your eyes, it means you'll be alright."
How she pleaded and took in her own his dear hand,
But his eyes were shut tight, he wished she'd understand,
He could see his own rainbow that led to new life,
And he tried to convey this good news to his wife.
For somehow they had shared that great symbol of hope,
And whatever now happened he knew she would cope,
He squeezed then her hand for he'd always be there,
God knew what was best, they were both in His care.
Acceptance
It isn't always easy
To accept what each day brings,
Both the difficult and painful,
Or sad, frustrating things.
But if we pray about them,
Put each moment in God's hand,
Asking Him for strength and guidance,
He'll help us understand.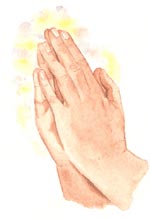 Our life is full of testings,
With His aid life fills with hope,
In accepting them with courage
And faith, we'll find we'll cope.
Maytime
The blackbird knows it's Maytime,
So does the bumblebee,
Azaleas and bluebells,
Are wonderful to see.
The mating game now settled,
Birds search for insect, seeds,
And flowers are bright and blooming,
As springtime warmth succeeds.

The young leaves light-green masses,
Paint gems of different hues,
And garden walls are splattered,
With alpines reds and blues.
Grass lush, refreshed with showers,
Competes with trees pale greens,
A blackbird in the birdbath,
Splashes, then shakes and preens.
The wind is spent and lazy,
As hazy skies remain,
I am so glad the sun has come
To bless Maytime again.