Chrissy's childhood was spent in Redditch, Worcestershire. She wrote her first poem at the age of twelve and had poems in The School Magazines. At thirteen she read her poems on the B.B.C. 'Children's Hour' and at fifteen wrote a poem in German, which was read in Germany.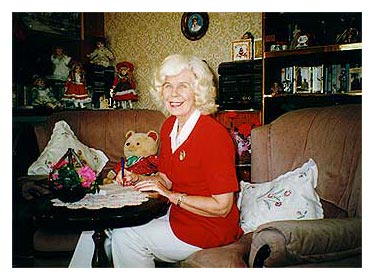 Chrissy met her first husband Dennis at Worcester Teachers Training College. They lived happily for thirty years in Weymouth, Dorset. Chrissy, most of this time was teaching children with special needs. For several years they both taught in France and Singapore. After Dennis' unexpected death after a Triple Bypass, Chrissy moved to Bournemouth, Dorset. She later met and married Cliff to whom she was happily married for seven years. Sadly in 2003, Cliff lost his battle with Motor Neurone Disease.
Chrissy was supported throughout the following, traumatic years by the final love of her life, Terry. With his help, Chrissy sold her house in Bournemouth, put everything into store and spent months in Southern Ireland, seeking a place to settle down. Destiny intervened and they have recently returned to Dorset, where as Chrissy said , "I've found my little bit of Ireland waiting for me. This is where my rainbow ends"
Throughout these years Chrissy never stopped writing poetry, short stories, and books. She wrote a children's novel at fifteen called 'The House in the Forest.' As an adult she half finished a Year Book of poems, quotations and thoughts, called ' A Touch on My Shoulder.'. She also has written a book called 'A Journey Into The Light,' which reveals how her Inspirational Poems were given to her, during a year attending Quaker Meetings in Bournemouth.
Whilst teaching at Westfield Special School, in Weymouth, Chrissy created a Prescriptive System of Education to cope with the special needs of the children she was teaching. This involved writing another book and creating work sheets and equipment for its practical use, for the teaching staff and for the children. This teaching System was carried out throughout the school and proved to be very helpful. Chrissy also wrote plays in rhyme for her class to dramatise, as an aid to teaching Bible stories and Nature Study. Both systems were a huge success.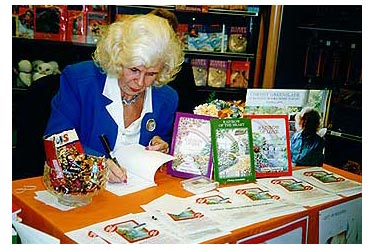 Chrissy has written over a thousand poems. She started contributing to magazines in 1983 and has had over three hundred published in well known magazines, anthologies and books, (including a translation in Albanian). She has read her poems on Hope F.M. and Radio Solent. Her poetry is now read in more than ten countries and has been set to music by an American composer, Jonathan Horrocks.
She has given numerous talks and poetry readings. She was a familiar figure at The Bournemouth International Centre's Annual Craft Fair signing and selling her books. She had successful Book Signings at W.H.Smith's Poole, and a Poetry Reading and Book Signing at Borders Bournemouth.
On being asked what kind of poetry she writes, Chrissy says, "Whatever makes me laugh, moves me or inspires me. I suppose I'm a mixture of Patience Strong, Pam Ayres and Helen Steiner-Rice. I shall never stop writing poetry, as it is as natural as breathing."